Empowerment Mandalas

The literal meaning of the word 'Mandala' is:


"A geometric figure representing the Universe."


An 'Empowerment Mandala' of your energy is a hand drawn rendition of your Universe; a representation of the core of your being. It is a geometric figure that depicts your Reality Self through shape and color.

AnneClaire draws these uniquely personal mandalas in a meditative trance in which the right shape and color are brought forward ~ creating a visual representation of the core energy of the person whom I am drawing the 'Empowerment Mandala' for.

She starts the process of drawing that energy in the center, and with each shape and color moving outward the energy is built. The end result can be read from the outside in, showing what is presented to the world first and moving inward with each layer to the core of the energy.

The 'Empowerment Mandala' of your energy help you as it is a point of focus through which you can create a powerful connection to your core, your Reality Self.
Yet you can also use the 'Empowerment Mandala' in your letterhead, to create your own stationary, on business cards, etc.

Each hand drawn mandala measures 3 to 4 inches across. Personal contact is not necessary in order to have your own 'Empowerment Mandala' created ~ all I need are your full name and a picture of you.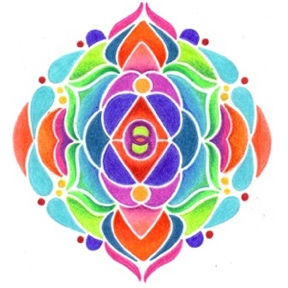 Empowerment Mandala's

De letterlijke betekenis van het woord 'Mandala' is:


"Een geometrische figuur die het Universum representeert."


Een 'Empowerment Mandala' van je energie is een getekende weergave van jouw Universum; een weergave van de kern van je wezen. Het is een geometrische figuur die door kleur en vorm jouw werkelijke Zelf representeert.

Anne Claire tekent deze unieke, persoonlijke mandala's in een meditatieve trance. Hierdoor komt steeds de juiste vorm en kleur naar voren voor de weergave van de energie van de persoon waarvoor de 'Empowerment Mandala' is bestemd.

De 'Empowerment Mandala' van jouw energie kan je helpen als focus van je eigen kracht die je put uit je kern ~ uit je Zelf.
Maar je kunt de 'Empowerment Mandala' ook gebruiken in het briefhoofd van je eigen postpapier, op je visitekaartjes, op 'afzenderstickertjes' etc.

Iedere 'Empowerment Mandala' die ik teken heeft een doorsnede tussen de 8 en 10 cm.
Persoonlijk contact is niet nodig, een foto en de naam van een persoon genoeg om de 'Empowerment Mandala' te kunnen tekenen.

Wil je meer weten over empowerment mandala's? Bekijk dan de website of neem contact op met Anne Claire om de mogelijkheden te bespreken.