Special occasions
AnneClaire also draws Mandalas for special occasions like a birth, a wedding, or any important special occasion we may experience in our lives.

She draws these Mandalas based on the date of birth and the name of the person or persons the Mandala is meant to depict. The process of drawing a Mandala is an intuitive, even meditative process in which each color and every shape has its own meaning, and depicts an aspect of the 'Universum' of that person.

After AnneClaire has finished the drawing, she reads the Mandala. Often core characteristics of the person or the marriage will surface. For instance, when a person is very creative, this will be shown in the Mandala. What is not visible is how this creativity will be used as that is the free will choice of that person.
The reading of the Mandala is recorded, and will be added as a MP3 file.

AnneClaire also creates Mandalas for meetings, events, or even as a logo for companies. Each Mandala has a specific energy which represents the energy of the meeting, the event, or the mission of the company.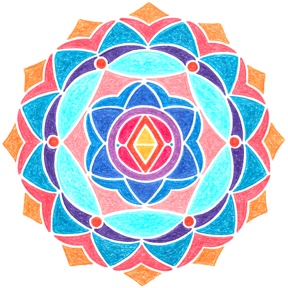 Bijzondere gebeurtenissen

Anne Claire tekent ook Mandala's voor bijzondere gebeurtenissen zoals een geboorte, een huwelijk, of welke belangrijke bijzondere gebeurtenis ook in het leven plaats kan vinden.

Deze Mandala's tekent zij op basis van de geboortedatum en naam van de persoon of personen voor wie de Mandala is bedoeld. Het tekenen van een mandala is een intuïtief, of zelfs meditatief proces waarbij iedere vorm, iedere kleur, zijn eigen betekenis heeft en een facet van het 'Universum' van de persoon weergeeft.

Nadat Anne Claire de mandala heeft getekend, leest zij de mandala. Hierbij komen vaak kerneigenschappen van de persoon, of over het huwelijk naar voren. Bijvoorbeeld wanneer een persoon bijzonder creatief is, dan is dat in de Mandala te zien. Wat niet te zien is, is hoe deze creativiteit later gebruikt gaat worden ~ dat is de vrije keus van de persoon.
De reading van de uitleg van de Mandala wordt opgenomen en als MP3 bestand toegevoegd.

Daarnaast tekent Anne Claire ook Mandala's voor bijeenkomsten, evenementen, of zelfs als logo voor bedrijven. Iedere Mandala heeft een specifieke energie die de energie van de bijeenkomst, het evenement, of de missie van het bedrijf weergeeft.